About Carolina Firearms Training 

Proudly Serving Sanford & Surrounding Areas 
Carolina Firearms Training was formed in March of 2009. As of February 2021 we have provided instruction to over 25,000 students and counting.  At Carolina Firearms Training our main purpose is the North Carolina Concealed Carry Course. We also offer other classes as well for the beginner on up. For those who prefer one on one personalized instruction we offer that as well. 

We utilize two ranges.  Range 1 is in Siler City and and Range 2 is in Moore County near Carthage.  Range 1 is 25 minutes from our store and Range 2 is 15 minutes from our store.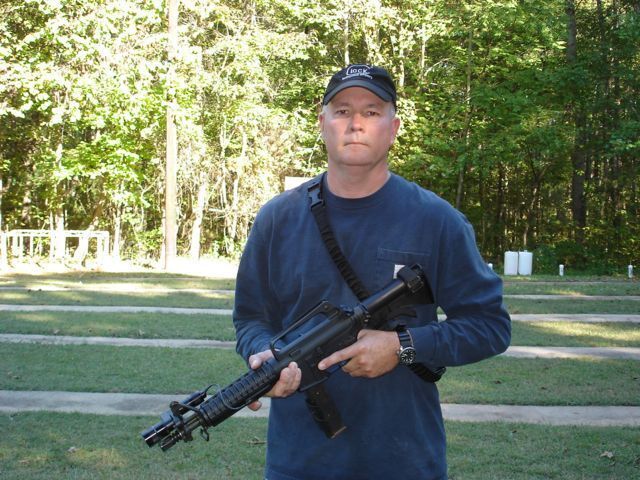 Kevin Dodson, Founder
Not all firearms instructors are law enforcement officers. As a law enforcement firearms instructor and having experience in dealing with violent offenders and potentially deadly encounters I believe this enables me to relate to past and future victims, helping them with advice on future encounters and situations. Some other concealed carry classes don't have this kind of knowledge or advice to pass on to you. I am a recently retired law enforcement officer with 15 years experience and an Advanced Law Enforcement Certificate.  I started my law enforcement career with the Chatham County Sheriff's Office.  While at the Chatham County Sheriff's Office I was fortunate to be able to serve on the Special Incidents Response Team (SIRT).  I am certified by the North Carolina Department of Justice as a specialized law enforcement firearms instructor and a defensive tactics instructor. I am an NRA pistol instructor and a "Refuse To Be A Victim" instructor.  I am also a member of several organizations to include International Association of Law Enforcement Firearms Instructors (IALEFI), National Rifle Association (NRA), North Carolina Association of Law Enforcement Officers and International Defensive Pistol Association (IDPA).  In 2007 I was awarded the Law Enforcement Certificate of Commendation for Outstanding Public Service and voted Officer of the Year by my peers at the Siler City Police Department.  I also teach Basic Law Enforcement Training (BLET) to new recruits and I am also a factory certified Glock Pistol Armorer and a certified Sig Sauer Pistol Armorer. 
In the area of specialty weapons and tactical training, I have attended Singleton International and I am certified as an instructor on the H&K MP5 Subgun and M4/M16 Colt System which would include nomenclature, sighting/zeroing of the weapons system and range drills as well as tactical load/reload drills.  I have also attended SWAT School at the North Carolina Justice Academy in Salemburg, N.C. We believe that you'll find that we offer you the best value and the most professionally taught class in the area. We want to prepare you for anything and everything. I'll give you all the tools and the knowledge that you'll need in order to protect yourself and your loved ones.  
Chase Dodson
Concealed Carry Instructor, Basic Pistol Instructor, Private Instruction. NCDOJ Certified Instructor, NRA Basic Pistol Instructor, USCCA Certified Instructor