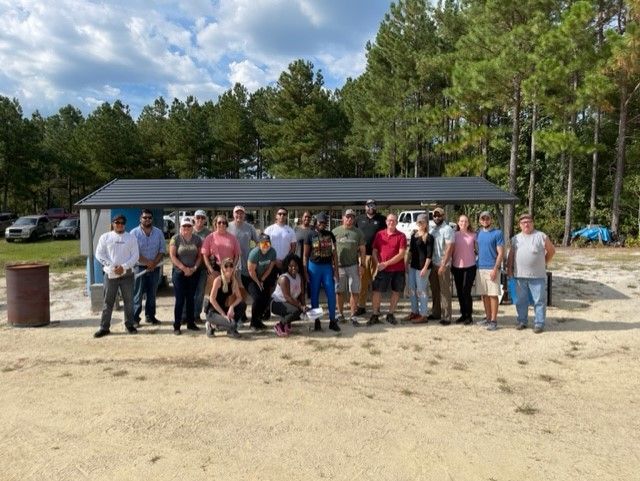 Concealed Carry Permit Class: $65 ($90 w/ Rental & Ammo)
This class is required by the state of North Carolina to obtain your Concealed Carry Permit. Class is one day and starts at 8:00 am and usually ends around 6:00pm. Once you complete this class you will be issued the certificate required by the sheriffs department to apply for your concealed carry.  Topics Discussed: Legal Issue Handgun Safety Handguns Marksmanship Fundamentals Carry Concealed safety Issues Presentation Techniques Cleaning and Maintenance Ammunition Proficiency Drills. We do take regular breaks during class and stop for a lunch break. Students are encouraged to bring snacks and drink (breakroom on site). You will need a firearm and 50 rounds of ammo for the shooting qualification. If you do not already have a firearm you can bring $25 cash the day of class and rent one of ours which will include the ammo. Seats are limited so sign up soon before they go!
Basic Pistol: $50 
The Basic Pistol Class introduces students to the knowledge, skills and attitude necessary for owning and using a pistol safely. Through this course, the students will learn about pistol parts and operation, ammunition, gun safety, pistol shooting fundamentals, and pistol shooting activities. The Basic Pistol Course will also help prepare the student for participation in the Concealed Carry Class as well as other Defensive level training classes we offer. This course consists of around 2 hours in the classroom and 2 hours on the firing range. Students should bring their own handgun and 50 rounds of ammo, or may rent one of our handguns (ammo included) for the class for $25.00. Gun rentals are cash only and are reserved at registration the day of class. Women's Only and Coed classes are available.
Objectives included are as followed:
Pistol Knowledge and Safe Gun Handling

Ammunition Knowledge and the Fundamentals of Pistol Shooting

Shooting Positions and Shooting Qualifications

Scoring Targets, and Selecting and Maintaining Your Pistol
Topics discussed will be:
Types of firearms

Choosing the right firearm for you

Firearm safety and storage

Ammunition

Types of malfunctions

Grip

Fundamentals of shooting

Live fire exercises
Defensive Pistol: Beginners $100
This will be your intro into our Defensive series. This class will be 4 hrs range time going over the following drills and topics. We will evaluate and improve grip, stance and shooting mechanics. We will go over how to address and clear different types of malfunctions. We will go over reloads in different situations. We will demonstrate and practice the difference between marksmanship and defensive point shooting. Items you are expected to bring include, semi auto 9mm or higher caliber, 200 rounds of ammo for your firearm, eye and ear protection, holster, 2-3 magazines and mag pouch, range appropriate attire (weather permitting), drinks and snacks. This class will make you a more confident shooter and give you hands on training in defensive skills to better increase your odds in a survival situation. Class is located at 955 Joel Rd. Carthage NC.
AR/Carbine Basics: $75
Class is located at 1614 Hawkins Ave., Sanford NC. We will start at 10:00am and finish around 3:00pm. We will take breaks but since we will not take a full lunch students are suggested to bring plenty of drinks and snacks (light lunch). AR Basics class is designed to teach the students the skills and knowledge necessary for owning and operating a carbine rifle. We will spend 2 hours in the classroom covering topics such as Safety, Fundamentals and Operations. NO AMMO in the classroom. After classroom concludes we will head out to the range to apply what we learned in practical exercises. Students are required the following list of items to be prepared for training. AR type rifle/carbine with tactical sling, 3 Rifle mags, 100 rounds factory ammo (no green tip or penetrator type ammo), eye and ear protection, rain gear, hat, sun block, bug spray, mat or small tarp for prone, knee pads (optional), gun oil. Please contact us ahead of time for pricing and availability of ammo if you need some.
Children's and Youth Firearms Safety and Fundamentals: $25
This series of classes will be a mix of classroom only learning with hands on activities and presentations eventually graduating the student up to some live range time. Class topics include Accident Prevention and Safety Basics, Firearms Safety Rules, Firearms Familiarizations to include handgun and long guns, Range Rules and Etiquette, Dry Fire Practices and more. Age groups range from Elementary, Middle and High school ages 6-18 years old. 
Private Instruction
We offer a variety of classes and private instruction that can be conducted at our facilities or at yours. These include private one on one and small groups or even large groups such as church groups or corporations. Some of these would include private concealed carry classes, situational awareness and active shooter training, group parties for birthdays and celebrations, advanced training for security teams and law enforcement and more. 
We offer gun rentals for all of our training classes if you do not already own a firearm. If you do have your own firearm, we offer a 20% discount on ammo for anyone registered for a class. Please call ahead of your scheduled class to secure a rental or ammo.
Have Questions? Contact Us!